BAMS BHMS BUMS ADMISSION IN UP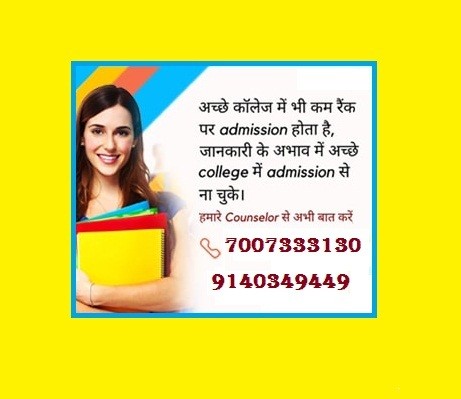 Friday, March 6, 2020 at 12:00:01 AM India Standard Time
EduTechAgra is number 1 medical consultancy for providing BAMS, BHMS and BUMS
admission in whole Uttar Pradesh [UP] state. With an experience of more than a
decade in medical field we can assure your confirm seat in all ayurvedic degree
programs like BAMS, BUMS and BHMS.
For BAMS BUMS BHMS Admission In UP
BAMS Educational Consultant In UP – 7007333130
Email : info@edutechagra.com
Details About BAMS Course:
Bachelor of Ayurvedic Medicine and Surgery will enable a student to acquire a
graduate degree in BAMS. The course in medicine enables the students to learn about
modern medicinal treatments and integration of traditional methods of Ayurvedic
treatments and surgical processes that have come from the rich Indian history in this
field.
Details About BHMS Course
In this course, you will be taught: 1. Anatomy and Physiology, 2. Ayurvedic Texts and
Sanskrit, 3. Pharmacology and Pharmaceuticals, 4. Preventive Medicine, 5. Ayurvedic
Toxicology, 6. Diagnostics and Clinical Methods, 7. General Medicine, 8. Gynaecology
and obstetrics, 9. general surgery, 10. Paediatrics, 11. ENT, 12. Ophthalmology and a one-
year internship in various departments.
Bachelor of Homeopathic Medicine and Surgery will enable a student to acquire a graduate
degree in BHMS. The course in medicine enables the students to learn about healing the
human body from the natural process. BHMS also teaches students how to preserve the inner
ability of the human body to heal itself without depending on external remedies and/or
medicines.
A typical BHMS course is for 5 and a half years, with 4 and a half years of regular course
work and 1 year of internship. The course comprises of subjects such as: 1. Human Anatomy,
2. Biochemistry, 3. Physiology, 4. Community Medicine, 5. Homeopathic Pharmacy and
Medicine, 6. Homeopathic Toxicology, 7. Homeopathic Philosophy and Therapeutics, 8.
Forensic Medicine, 9. Pathology, 10. Surgery, 11. Paediatrics, 12. Gynecology, 13.
Psychiatry and 1 year of internship in various departments.
For BAMS BUMS BHMS Admission In UP
BAMS Educational Consultant In UP – 7007333130
Email : info@edutechagra.com
Eligibility
To enroll oneself in BHMS program, a student must have completed class 12 in science
stream with Physics, Chemistry and Biology as main subjects, and should have obtained
passing marks in all subjects. For the students, it is also mandatory to qualify NEET or
National Eligibility cum Entrance Test. Depending on universities and institutes around the
country, the minimum percentage required for admission will also vary.
Career Prospects
After successful completion of BHMS degree, students will have numerous opportunities
available to them. There is high demand of Homeopathy Doctors in hospitals that specialize
in AYUSH treatments. National, international and multinational companies also hire BHMS
qualified persons for research work. One can also practice as an independent Homeopathy
doctor in their own clinic or hospitals.
Institutions that teach AYUSH courses also recruit BHMS qualified persons for teaching and
research work. Typical annual salary of those practicing after BHMS can range from 5 lac
rupees per annum to higher range of 70 lac rupees per annum.
Students wishing to study further can enrol themselves in higher education degrees such as
MD, MS in Psychiatry and/ or Epidemiology and the like.