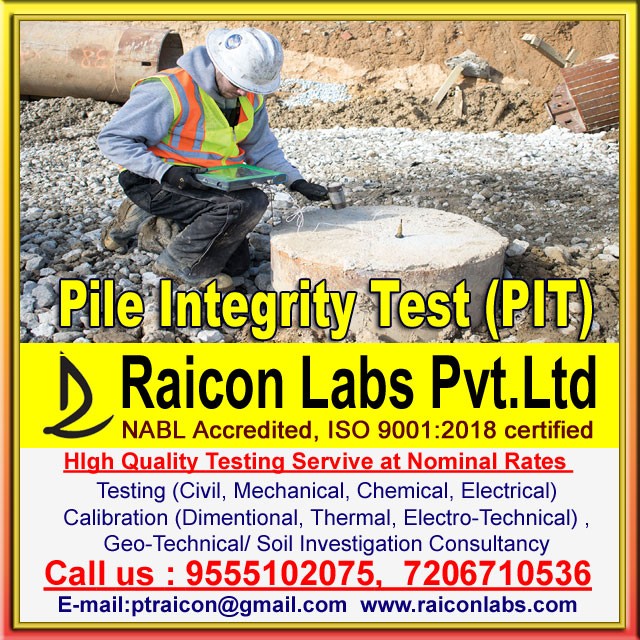 Tuesday, November 2, 2021 at 1:41:26 PM India Standard Time
Pile Integrity Test /PIT are always required in  in Civil Engineering Work  . Whenever any Pile is Casted in any construction , Pile Integrity Test is conducted to test it integrity stealth of that pile . Raicon Labs Pvt. Ltd. Is best laboratories for all kind of Engineering test and also for PIT test / pile integrity test.
Raicon lab  is also   ISO - 9001:2015, 14001:2015 Certified and  ISO-17025:2017,   NABL Accredited, Certified Labs to conduct various testing . Out PIT  testing service is rendered by our team of world class  professionals to evaluate pile strength capacity, driving stresses and performance. Raicon's Pile Integrity Test (PIT) testing service is conducted  with the help of the best and sophisticated Apparatus tool and  latest technology.  any one  can avail this testing service from us at  very reasonable price.
Raicon Labs Pvt. Ltd provides Pile Integrity Test (PIT) testing services in Patna, Bihar, Rajasthan, Uttar Pradesh, Jharkhand, Madhya Pradesh, Paradeep, Bhubaneswar, Odisha
https://raiconlabspatnabihar.blogspot.com/2021/09/pile-integrity-test-pit-bihar-jharkhand.html
Call us :  7206710536, 011-27672405
E-mail: ptraicon@gmail.com  
https://twitter.com/Raiconlabpatna 
https://pitsoiltestinvestigation.business.site 
https://raiconlabspatnabihar.blogspot.com 
https://www.facebook.com/RaiconLabsPatnaBihar 
http://raiconlabs.com
https://www.linkedin.com/company/raicon-labs-bihar-patna