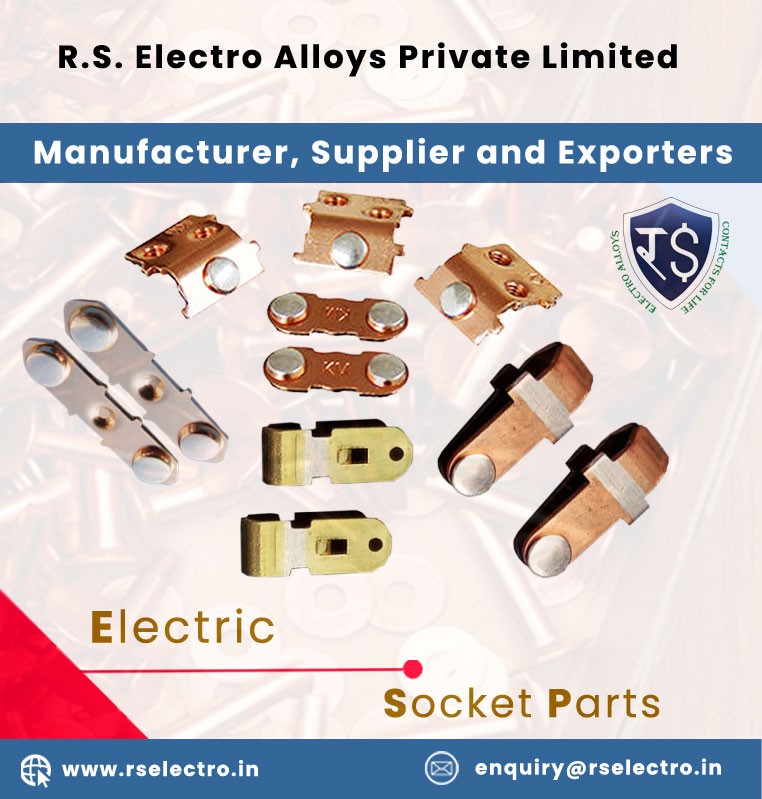 RS Electro Alloy
Please login to view contact details.
India, Delhi, New Delhi, 110063
Report inappropriate
Monday, January 3, 2022 at 1:11:47 PM India Standard Time
Electric Socket Parts Dealers and Exporters, Suppliers, Manufactures,Whole Sellers, Exporters and Contractors in Sikkim, Uttarakhand, Punjab, Madhya Pradesh, Andhra Pradesh, Jharkhand, Meghalaya, Arunachal Pradesh, West Bengal, Delhi, Rajasthan, Tripura, Bihar, Karnataka, Jammu & Kashmir, Orissa, Kerala, Haryana, Manipur, Assam, Maharashtra, Uttar Pradesh, Nagaland, Chhattisgarh, Gujarat, Goa, Mizoram, Tamil Nadu, Noida, Uttar Pradesh, Delhi NCR.
RS Alloys and Metals Pvt Ltd. Our Contact assembly range includes Copper Switch Contacts, Contacts Assembly, Electric Socket Parts, Stamping of Electrical Contact, Staked Assembly For Relay, Electrical Contact Assemblies, VCB Vacuum Circuit breaker Assembly, Electrical bimetal silver contact assembly, silver touch contact power point, Circuit Sub-Assembly, Stamping brass electrical accessories, Electrical Contacts for Low Voltage, electrical silver contact assembly for wall, Trimetal Contact Rivet Point, electrical contact spring assembly, Contacts assembled in brass, rivet assembly Silver contact, Silver Contact rivets assembly, Hard Copper Spring Bridge assembly, Electrical Riveted AgZnO/Cu Contact Assembly, Stamping of electrical contact staked assembly, Silver Electrical Contact Assembly, Customized High Voltage Assembly, High precision brass contact for assembly, Silver alloy rivet aseembly, Composite rivet assembly, electrical contact spring assembly, Electrical Metal Stamping Parts, Contacts Crimp Terminal Block, silver contact assembly, contact ball bearing assembly.
For any Enquiry Call Rs Electro Alloys Private Limited at Contact Number : +91 9999973612, 9818231114, Email at : enquiry@rselectro.in, Website : www.rselectro.in