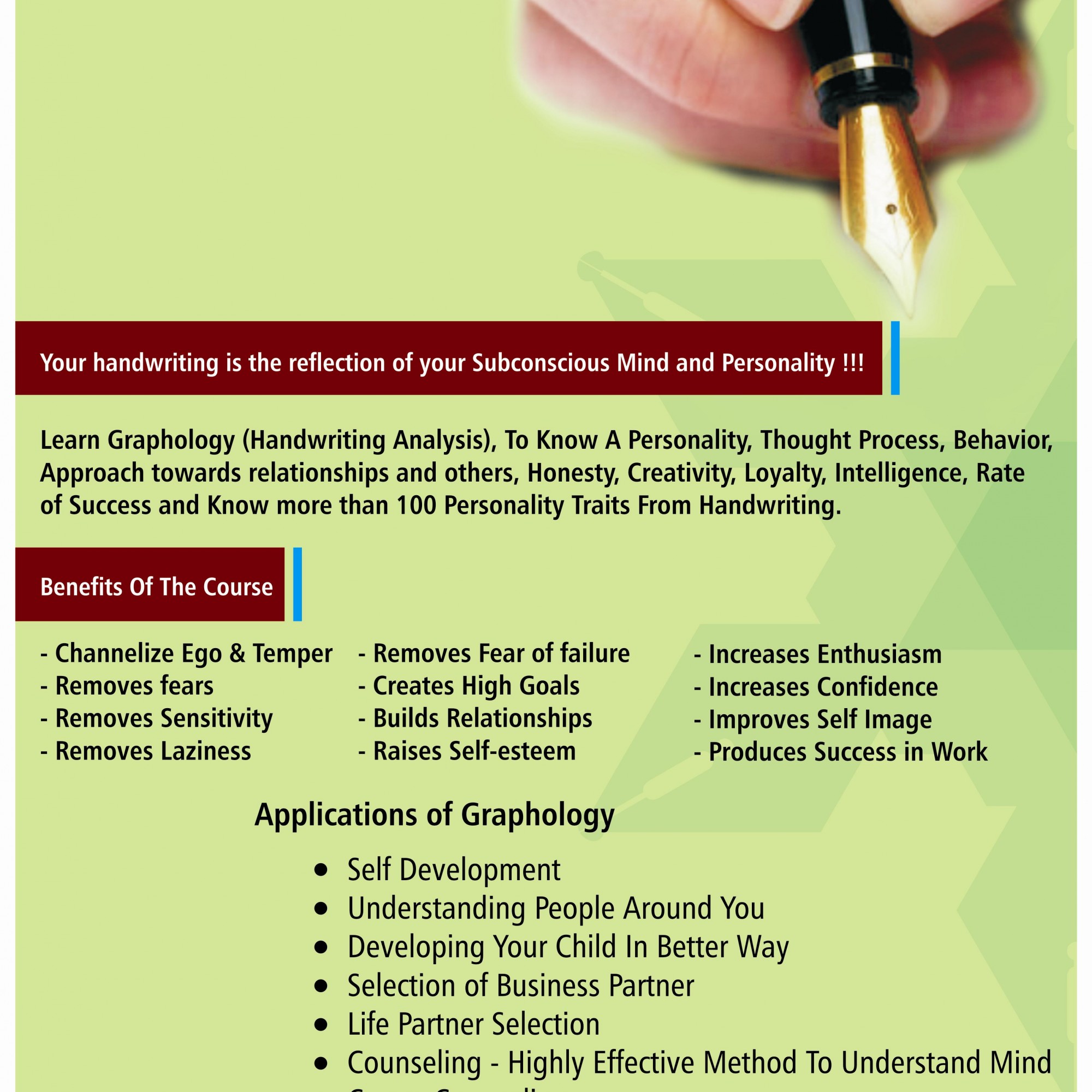 sudhir arsude
Please login to view contact details.
India, Maharashtra, Mumbai, 400069
Report inappropriate
Tuesday, January 14, 2020 at 4:51:09 PM India Standard Time
Learn Graphology and Understand Secrets of Human Mind Through Handwriting
What is Graphology?
Graphology (Handwriting Analysis) is the tool which helps you to understand subconscious of a person from just a piece of handwriting. Graphology can decode more than 2000 behavioral traits from handwriting and signature. 
Course Content: 
•  What is Graphology?
•  Rules of Graphology
•  Advantages of Graphology
•  Limitations of Graphology
•  Margins
•  Zones
•  Size
•  Handwriting Pressure
•  Slants
•  Spacing
•  Connectivity and Dis-connectivity
•  Baseline
•  Signature
And much more...
Faculty:
Mr. Sandip Arsude
•  He is a versatile personality with many admirable qualities. He completed his education in MBA from MIT College and PGDACM from Symbiosis College Pune.
•  Researched and identified handwriting traits that reveal diseases and physical challenges.
•  He is doing continuous research to identify various health issues through handwriting.
Analyzed more than 3 Lacks handwriting samples.
•  He is working for various courts across India. (In the area of Handwriting and Signature verification.
•  He has trained more than 300 primary school teachers under Rural Empowerment Project in Bhiwandi (Mumbai).
•  Radio channel BIG FM Mumbai aired his interview on the subject of Graphology - Handwriting Analysis.
•  Institute is having students and clients other than India from countries like - Australia, Canada, Germany, USA, England and many more countries.
•  Pioneers in conducting Handwriting Analysis courses for employees in MNCs like Infosys, Tech Mahindra, BMC Software and Persistent.
•  Conducted seminar and workshop in Pune University for Psychology students.
•  Conducted seminars in Modern College for Psychology students.
•  Conducted seminar in Dr. D. Y. Patil college for Psychology.
•  Conducted seminar in M I T college for E and T engineering students.
•  He taught this unique science in the B-School of Management Institute of Leadership and Excellence (MILE – College), Pune as a course subject for two years.
•  Conducted workshops for Thought Works Pvt. Ltd,HDFC, Wipro, and Reliance Mutual Funds, etc.
Date & Time: 
Every Sunday 9:00 AM to 6:00 PM 
5 Sundays
Eligibility:
Any person with age more than 14 Years.
What you will Learn?
•  Why a person faces failures in life? 
•  Why a person fails in relationship issues?
•  Why a person faces financial crisis?
•  Why a person can't get along with people around?
•  How to make goof work life balance? 
•  And answers to more such questions...
Contact -9975151895