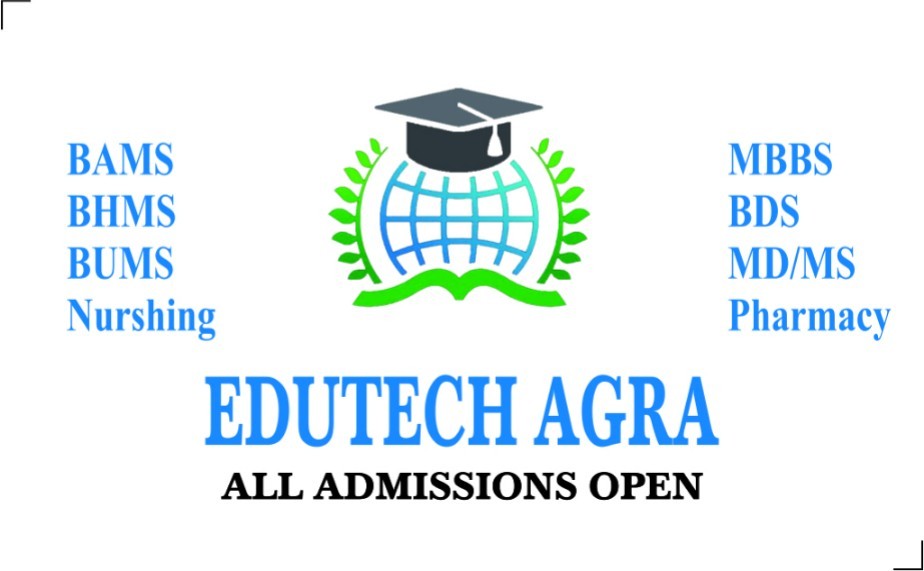 Sunday, March 1, 2020 at 12:00:03 AM India Standard Time
BAMS or Bachelor of Ayurvedic Medicine and Surgery is an ayurvedic degree course of
5 and a half years. Anyone can pursue this ayurvedic course after completing one's
high school degree up to class 12th in science stream. There are many ayurvedic
government/private colleges and universities in the country which offer this course.
After completion of this course, a student will get BAMS doctor degree.
For Best BAMS Colleges In Uttar Pradesh
BAMS Educational Consultant In UP – 7007333130
Email : info@edutechagra.com
Details About BAMS Degree Program
BAMS will enable candidates to acquire a graduate ayurvedic degree in Ayurveda
sector. The course in medicine enables the students to learn about modern medicinal
treatments and integration of traditional methods of Ayurvedic treatments and
surgical processes that have come from the rich Indian history in this field.
In this BAMS course, you will be taught:
Anatomy and Physiology,
Ayurvedic Texts and Sanskrit,
Pharmacology and Pharmaceuticals
Preventive Medicine,
Ayurvedic Toxicology,
Diagnostics and Clinical Methods,
General Medicine,
Gynaecology and obstetrics,
general surgery,
10. Paediatrics,
11. ENT,
12. Ophthalmology and a one-year internship in various departments.
Eligibility
12 passed with atleast 50% in PCB
17 Years if min age
Admission
Admission to the courses varies according to the universities, institutes and colleges.
According to the latest notification, all students aspiring to join any of the AYUSH
course have to compulsorily clear NEET. On top of that, some colleges conduct their
own entrance exams, some accept only NEET or National Eligibility cum Entrance Test,
and others accept on the basis of class 12 marks as well as NEET marks' aggregate.
The admission and tuition fees range starting from 10,000 per semester and going
higher. Some universities also offer scholarships and tuition fee waivers.
For Best BAMS Colleges In Uttar Pradesh
BAMS Educational Consultant In UP – 7007333130
Email : info@edutechagra.com
Top BAMS Colleges in UP,India
Institute of Medical Sciences, Varanasi: the institute is affiliated to UGC. The course of
Ayurveda was introduced in 1922 in Banaras Hindu University. IMS accepts students in
their BAMS program if they have successfully completed their class 12 degrees in
Science stream with Physics, Chemistry and Biology, along with having qualified NEET.
The Institute has their in house library, Ayurvedic Pharmacy and Dispensary, Garden
dedicated to medicinal plants, and their own museum. The aim of the Faculty of
Ayurveda is to promote research (inter- and intra-disciplinary courses), and to provide
top quality health services to the countrymen. The BAMS course is a five year course,
spread over 11 semesters.
Shree Guru Gobind Singh Tricentenary University, Gurgaon: It is a private university
that offers BAMS course. The minimum requirement for application is to acquire at
least 50% in PCB combination, with NEET qualification. Their faculty of Indian Medical
System offers the BAMS degree and was established in 2015. The college owns their
in-house research unit and medical unit and a medicinal garden. They pride
themselves in teaching innovative and job oriented courses.
Patanjali Ayurved College, Haridwar: It is an institute devoted to Ayurved. The BAMS
course spans to 4 and a half years of regular course work and 1 year of internship. It is
affiliated to Uttarakhand Ayurved University, Dehradun. The President of the college is
Swami Ramdev.